Last award of the BBA season, the Stan Musial award, going to the most valuable player.  The most prestigious award is reserved for the best of the best.  Hall of Fame careers are often judged on how many of these the player can get.   One is almost mandatory (actually it isn't).  But win a couple and you're almost guaranteed to get in.
American League:
Mike Trout – Angels:  Even though he tanked in the playoffs, this year he finally wins the award.  When he got off to a slow start, many were questioning whether he was in for a slight down year….nope.  Angels are paying him a shit load and still getting a great deal.
Michael Brantley – Indians:  Came out of seemingly nowhere to be the best player on the Indians by far.  He was a mini Trout, hitting for average, some power and moved around the bases.
Jose Bautista – Blue Jays: Some though Joey Bats was heading towards the downside, and he might never top 40 HR again, but he upped his average and was the consistent bat int he BlueJays lineup.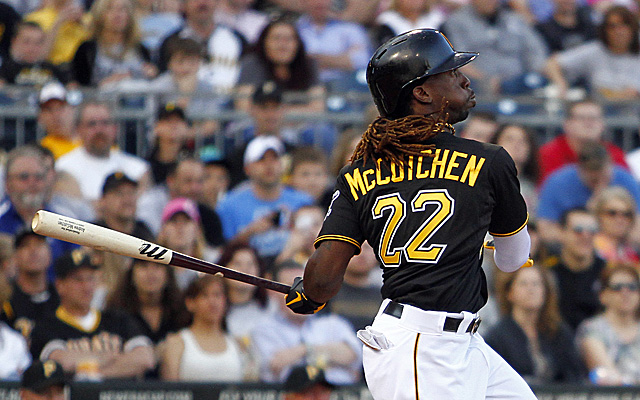 National League:
Andrew McCutchen – Pirates:  A repeat MVP is on tap for this year.  McCutchen seemingly had a quieter year this year…maybe because the Pirates being in the playoff race wasn't a novelty this year – it was expected.  But he was the best player in the NL by far in a somewhat weak field.
Clayton Kershaw – Dodgers:  I'll repeat what I said in the Walter Johnson award voting.  Pitchers get on this list when they are as dominant as Kershaw.  Not sure how he isn't the winner/favorite of this award for the next several years.  Just a ridiculous, ridiculous talent.  Apparently the HR he gave up to Matt Adams was the FIRST HR he ver gave up to a lefty on his curve ball.
Giancarlo Stanton – Marlins:  Stanton had a real shot ton win before wearing a fastball to the face.  He was having a killer year and proving that he is one of the best young bats in baseball after a disappointing stretch the previous seasons.  Will need to stay healthy an entire season to climb to number one on this list.